Medical Center League House Breaks Ground
"This ground breaking is possible because of a lot of hard work from the Junior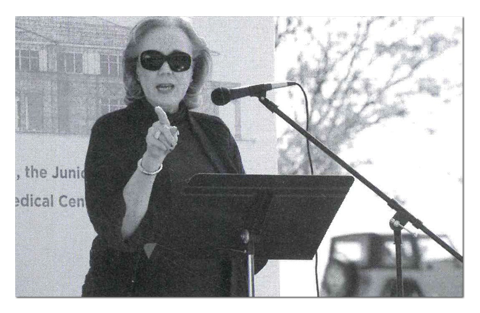 League and their many partners. Thanks for making this vision a reality for the Panhandle of Texas. It brings joy to my heart to see how this medical center has grown and benefits our area because it was very important to my mother. She was on the BSA Board, Harrington Cancer Center Advisory Committee and served on many other health related organizations. I want to share with you my Mother's no fail recipe success — It
consists of three L's. Put the LORD first, with a heart full of LOVE and a will to LABOR.
Words are inadequate as we attempt to express our thanks for your gifts of money, your time, and prayers for this project. The Bible verse that best expresses what's in my heart is "Thanks be unto God for his unspeakable gifts."
"Wahooooooooo!" was a victory yell heard throughout the Texas panhandle on Friday, October 3, as the Junior League of Amarillo, Baptist Community Services, Harrington Regional Medical Center, and supporters from across the twenty-six counties celebrated the official ground breaking for the Medical Center League House.
Approximately 300 community members gathered at 2:00 p.m. at the site of the future League House to see the first ground officially turned. Lifting shovels were Lori Henke and Stacey Harwell (JLA co- chairs of the MCLH project), Gary Wells (President of the MCLH Board of Trustees), Dick Rathgeber and Sharon Oeschger (Honorary Co—Chairpersons), Tim Holloway of Baptist Community Services, and Danny McWhorter of Harrington Regional Medical Center. Past JLA presidents Chas Massey, Cherie Sanders, Karen Isern, and Jan Shank as well as many other J LA members, Mayor Debra McCartt of Amarillo and representatives from communities such as Dalhart, Shamrock, and Stratford were in attendance for this historic occasion.